"Product of the Month"-LogicLadder is among the fastest-growing companies in India by The CEO Magazine
2017, a great new beginning of the year, as LogicLadder has been declared among the "25 Fastest Growing companies in India by "The CEO Magazine", cherry on the cake being taken by our solution offerings "EnergyLogicIQ" & "EnviroLogicIQ" being declared as the "Product of the Month". The detailed story coverage is there in the January 2017 issue.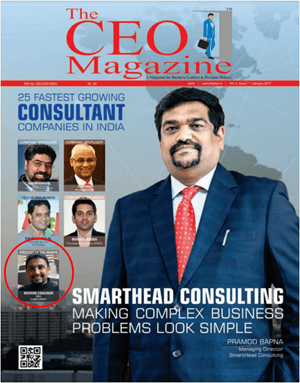 The article reads of how LogicLadder makes enterprises more sustainable with "The Sustainability Cloud™". The solutions speak about themselves and the company, so the cutting edge tools and solutions that LogicLadder is building will not only address today's challenges but also deliver values to the customer in their digital transformation using cloud, IOT, big data and mobility. LogicLadder offers solutions across all industries creating the world class monitoring solutions and intelligence systems. Within a short span, company has strategically partnered with established names of the market. LogicLadder has been growing both organically and inorganically with an ambitious and comprehensive initiative that aims to improve sustainability through better energy and environment monitoring and management.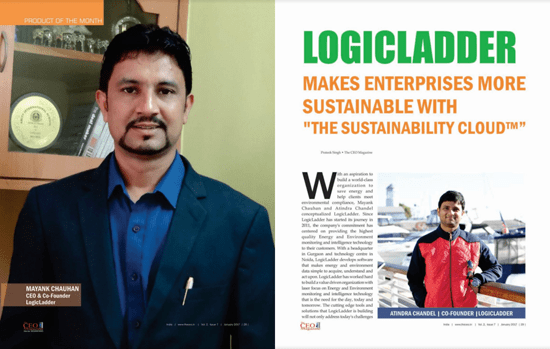 "We worked tirelessly to build great products that make our customers and partners win. Our customers are our purpose of our existence. We help them to win so that we can win."
The Solution Offerings –
EnergyLogicIQ works hard to save energy, so you don't have to. EnergyLogicIQ makes energy data simple to acquire, understand and act upon so that missed insights do not become missed opportunities. It is a next generation solution for today's energy conscious enterprise. EnergyLogicIQ performs more than 130 million calculations on energy data to pinpoint causes of energy loss, inefficient assets and identify areas for improvements. EnergyLogicIQ customers are using cloud platform for managing and accounting for energy use from grid, generator, and renewable sources like solar.
EnviroLogicIQ is revolutionary software by LogicLadder for clear insights into the environment data and compliance needs, so that an Industry can be empowered to work for a cleaner environment. It is powered by real time IOT technology for communication and Big Data for data storage and analytics. EnviroLogicIQ leverages IOT telemetry technology to acquire ambient air, emission and water data. With 99.99% up time it makes gathering data from remote services over GPRS, satellite and broadband highly reliable. EnviroLogicIQ supports remote services, diagnostics and management so that a facility manager does not have to travel to those remote sites for each change in station configuration and calibration.
Link:https://issuu.com/theceomagazineindia/docs/the_ceo_magazine_january_2017__cons